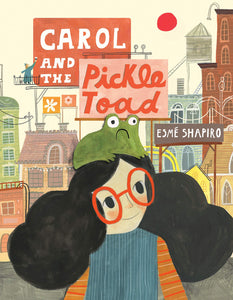 Now is your chance to order a signed copy of CAROL AND THE PICKLE-TOAD! 
CAROL AND THE PICKLE-TOAD was written and illustrated by Esme Shapiro and published by Tundra Books of Penguin Random House.
Would you like your book to say something special? Feel free to email theesmeshop@gmail.com after purchase with what you would like your book to say.
About the book:
"In the big city, people wear all kinds of hats. Not everyone wears a toad as a hat, but some people do . . . and some of those toad hats can be VERY bossy! Carol has always followed the orders of her demanding toad hat at the expense of her own inner voice. But when her toad hat is plucked away by a pigeon, how will Carol know what to do? After spending so long being told what to eat and do and paint, Carol's not sure what SHE wants, and nothing feels quite right. Feeling lost, she creates a new hat -- a toad made out of pickles and eggs -- to help guide her. Even though her new pickle-toad doesn't make a sound, Carol can hear it loud and clear! But when a pigeon takes away THAT hat too, Carol begins to understand that there is a big, booming voice that lives inside herself . . . and that it's well worth listening to!

For any reader who's doubted their own voice and talents, or felt like a bossy friend or family member is always drowning them out, Carol and the Pickle-Toad is an inspiring invitation to listen to your own heart and stand on your own two feet -- even better if you're wearing very tall boots."