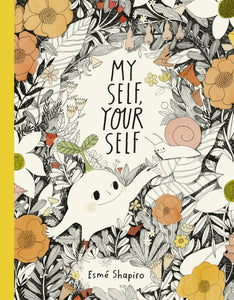 Now is your chance to order a signed copy of MY SELF, YOUR SELF! 
My Self, Your Self was written and illustrated by Esme Shapiro and published by Tundra Books of Penguin Random House.
Would you like your book to say something special? Feel free to email theesmeshop@gmail.com after purchase with what you would like your book to say.
About the book:
"Your self is the only self you have, and my self is not your self . . . but what is a self? Whatever it is, it's what makes you you!

From the way you button your coat to the way you tap your toes, from the top of your head to your adorable tummy, there are so many reasons to love your self, and so many reasons to be loved. Join a group of endearing forest creatures as they bake and eat cranberry-butter-pie muffins, sing silly songs at bathtime and stop to smell the chestnut-nettle roses, all the while exploring their individuality. This joyously affirming picture book from the inimitable Esmé Shapiro encourages the youngest readers to get to know and love and be kind to their wonderful selves and the equally wonderful selves around them."
Reviews:

"[E]ach question and simple sentence is there to encourage dialogue and self-discovery from young readers. . . . A sublime joy." —STARRED REVIEW, Kirkus Reviews

"Celebrate and ponder the joy and power of knowing one's self in this contemplative and encouraging tale. . . . [C]aregivers and readers will find ample discussion opportunities on subjects such as self-discovery and thoughtfulness. The conclusion celebrates the differences found among friends, and serves as an invitation to know and honor one's self. Shapiro's rich, mixed-media illustrations feature a muted palette and abound with details that will enthrall readers from start to finish." —School Library Journal
"Shapiro envelops big ideas within this whimsically affirming exploration of individuality and selfhood...A welcome, wandering contemplation of a book about being "OURSELVES together." - Publisher's Weekly